I want to take some space here to add a little cultural background needed to understand an inside joke in this chapter and an upcoming chapter of PB. I'll try not to spoil anything because I know how much you all read these things for their elaborate plot lines...
There's a Japanese Internet meme born of a gay manga called
Kusomiso Technique
. The opening scene and dialogue of Kusomiso Technique are frequently parodied in Japanese nerd culture, so it's worth understanding in order to get the joke in the "neighbor series" of Pythagoras Bitch. I'll render my own, less disgusting version of kusomiso...
In the opening scene, a young man (Masaki Michishita) is on his way home when he decides to take a detour through an unnamed park to use the restroom. Sitting on a bench outside the restroom is a handsome older man wearing a blue jumpsuit (Takakazu Abe). The young man admires the older man and thinks to himself (Uho! Ii otoko) or something like "Wow, what a hot guy." The older guy unzips his jumpsuit, revealing his member to the young man and propositions him by asking "yaranaika?" (Shall we do it?). The young man is amazed by the massive size of the older man's member and mutters "sugoku...ookii desu" (It's really... big...).
And that's as far as I'm going to go. With that background firm in hand, I'd like to share some of the meme!
I'll start with the classic scenes from Kusomiso Technique that are parodied:
And now we'll get to the jokes: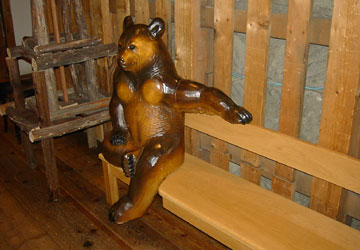 And in song form:
Link
And in cuter song form:
Link
And my personal favorite (wait for the song):
Link